When:
March 24, 2018 @ 6:00 pm – 9:00 pm
2018-03-24T18:00:00-04:00
2018-03-24T21:00:00-04:00
Where:
Rutland Area Christian School
112 Lincoln Ave
Rutland, VT 05701
USA

Cost:
$25.00 pp for Auction and Dinner (choice of Prime Rib or Salmon prepared by a local chef)
This event is Sold Out
Thank you to all those who donated and those who will attend.
Auction Items that we have received so far are listed below.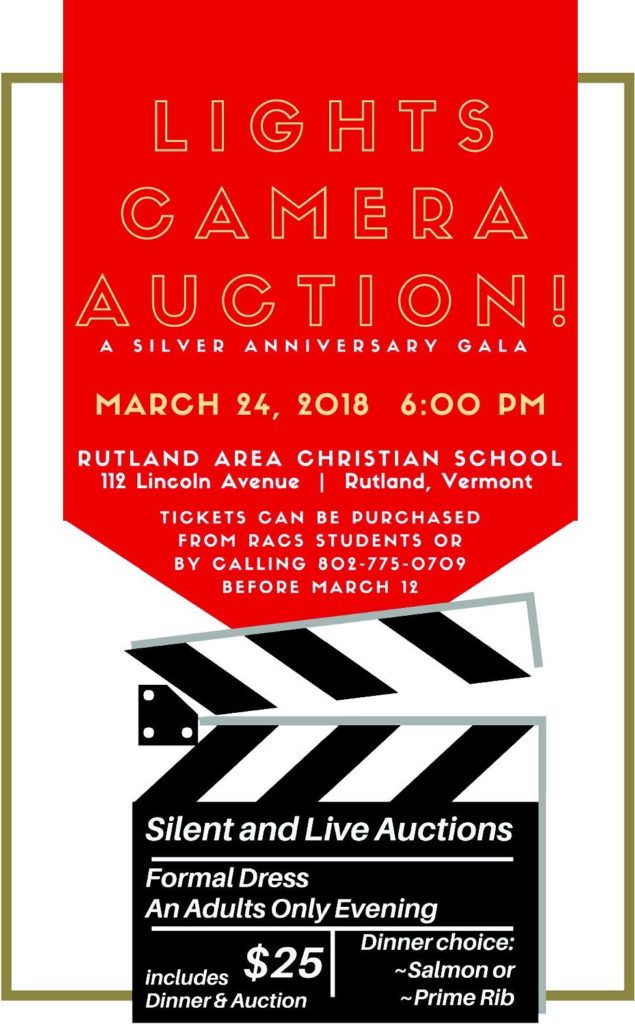 Over 250 Items being offered – A booklet will be provided at the event.
$500 off a wedding package
"A Bit of Americana"
"Christmas 1981"
"Christmas 1983"
"Christmas 1986"
"Dreaming in the Attic"
"This is the Day" cross
"Trouting Outing" on 4/14/18, 6+ hours
½ gallon VT maple syrup
1 Extra Value meal, 1 Happy meal & 1 sandwich
1 gallon VT maple syrup
1 gallon VT maple syrup
1 hour massage
1 hour regular labor & dozen truffles
1 liter VT maple syrup
1 liter VT maple syrup in glass bottle
1 month membership
1 punch pass to therapy pool
1 quart VT maple syrup
1 swim day pass for family of four
1 tennis lesson
10 punch skate card/fitness pass
10 yoga class punch card
11×9 Black "Busy Bees" frame
14×11 Butterflies shadow box
1953 Antique Krakauer Brothers Piano
2 bracelets (1 turquoise, 1 black)
2 children's chairs and game table
2 Extra Value meals
2 Happy meals
2 Multi-day Soulfest Passes (August 2-4, 2018)
2 night stay in 1 bedroom suite (6 people)
2 round trip tickets–Rutland to Boston
2 season passes to Killington Music Festival
2 sets LED solar pathway lights
2 tickets to select performances
2 tickets to selected performance
2 trail passes
2 variety boxes Goat cheese truffles
2 yards garden mulch with delivery
3 free games of Bowling
3 Ladies tops (pink and white)
3 month membership
3 One-day Passes (August 14-18, 2018)
32×22 "Grateful & Blessed" egg carton creation
34" outdoor fire pit
36×36 Joseph's paper quilt of many colors
4 greens fees
4 hours of babysitting by a RACS student
4 Wheel Alignment
5 burner stainless steel outdoor grill
6 bricks of cheese
6 desserts (one every other month)
6 month membership
6 months curbside trash and recycling pick up
62" x 75" Quilt
75 piece Lindt Lindor truffles gift bag
8 ft wooden picnic table
A very tasty authentic cheesecake
Adirondack toddler chair
Adirondack youth chair
Alignment, rotation, balancing & pressure check
Amazon Echo with Alexa
Autographed book titled "Bil"
Baby basket
Baby doll tandem stroller
Baby Hannah Doll deluxe set
Bakers Delight basket
BBQ Grill Kit (cleaner, scraper, lighter)
Beam bicentennial decanters
Blueberry Tea Basket
Board game bundle
Boomtouch speaker
Boy's basket (age 6-12)
Bracelet paired w/black journal
Bracelet paired w/pink journal
Busy Summer Fun box
Cabbage Patch Kid
Camping tent, stove and lantern
Car wash bucket
Castleton Boys' Basketball Overnight Camp (July 15-19, 2018 only, for ages 8-18)
Cedar squirrel feeder and cracked corn
Cesar dog food, Beggin' strips & Hartz shampoo
Champion kids' sneakers (size 10 ½)
Children's garden basket
Christmas Basket
Christmas table runner & candle
Contemporary Oil Painting
Cookie cutter basket
Crocheted camouflage blanket
Cuisinart Chef's stainless 11 piece set
Cupcake Basket
DC Shoes women's Manteca shoes
Disney Jr. Magic Talking Doc & Care Cart
Dog toy
Dozen crocheted roses
Dragon Alliance floatable sunglasses
Easter basket
Easter Basket for an adult
Easter table runner
Easter Wreath
Echo chain saw w/engine oil & chain oil
Echo weed trimmer w/cord and oil
Family day pass
Family portrait session and one 8×10
Fishing trip for 2 on CT River (mid-summer)
Fluid film undercoating for a sedan
Folding top wooden sandbox
Footed Bowl (handmade in Poland)
Framed Albena Hristova print
Fresh Local Meat
Furnace cleaning
Garden basket
Gift Certificate for Local Fresh Meat
Gift certificate for services
Gift certificate towards services
Gill's Delicatessen gift certificate
Girl's basket (age 6-12)
Good Morning Basket
Goodie Basket
Hair products
Hair products (shampoos)
Hair products and $20 gift certificate
Hair spackle
Hand painted tin with kitchen utensils
Handmade Amish rocking chair from western PA
Handmade crocheted afghan (full size)
Handmade quilted wall hanging
Handmade robes for little girl (7-8) and her doll
Handmade wooden raven whirly-gig
Hannaford gift card
Home/Garden Basket
Homemade body products box
Honduran Mahogany Jewelry Box
Hot Chocolate Box
Hubbardton Forge Lamp
Item
Jewelry and $20 gift card
Ladies dress (size 18W)
Legacy Collection cheese gift box
Little kid basket (age 1-5)
Meal Deal
Metal movie reel wall hanging
Mini tiller/cultivator
Mixing Bowl (handmade in Poland)
Neff Daily backpack – slime green
Neff Toodee Character Beanie
Nomis Women's arm bag purse
Norman Rockwell plate
Norman Rockwell plate
Norman Rockwell plate
Norman Rockwell plate
Oil Change
One Apple Pie
One cooking class
One Delicious Cheesecake
Pamper Yourself basket
Pet bed Basket
Peter Huntoon print "Bear Mountain"
Photo album accessory box
Picaboo.com gift certificate
Pink 33×44 baby/lap blanket
Pittsburgh Steelers calendar, gloves & signed picture of Antonio Brown
PJ Masks 12" bike (ages 1-4)
PJ Masks collectible figure set
PJ Masks Rival Racers track playset
Plantalier (chandelier for plants)
RACS hat and umbrella
RACS Ladies jacket, hat, bag & umbrella
RACS umbrella
Raiche's Salsa/Alpaca Basket
Ramunto's Rutland gift certificate
Red and black agate jewelry set
Regular oil change up to 5 qts. w/filter
Roadside Safety Kit
Scarf/mittens w/ Danforth pewter buttons
Sewing Basket/Kit
Single flue chimney cleaning
Sirius Satellite Radio
Small family membership
Sparkly pink dress shoes (size 2)
Sparkly silver dress shoes (size 3)
Spring Deco mesh wreath
Summer Fun Basket
Superhero bucket
Sweet Obsession Basket
Table runner
Teenage girl's basket
Three dozen truffles
Toro Recycler high wheel lawn mower
Trades of Hope unity necklace
Trades of Hope virtue bracelet
Turquoise and coral jewelry set
Turquoise jewelry set
Two 18×24 fabric paintings
Two 25 lb. bags of grass seed
Usborne books basket
Varios Gift card
Vera Bradley 80×50 Pop Art blanket
Vera Bradley backpack
Vermont Basket
Vermont Country Store bedspread
Vermont state inspection
Vermont value dining pass
Victoria Secret bag and gift certificate
VT made soy candle & lotion basket
w/Norman Rockwell cover pictures
Welding services
White Teddy Bear
Woman's haircut
World's softest Teddy Bear – 20"
Xander Bogaerts autographed baseball
Yankee Paint gift certificate
Young Living diffuser, essential oils & lozenges